GIVE THE GIFT OF LIFE AT VANDERHEYDEN'S 4th ANNUAL BLOOD DRIVE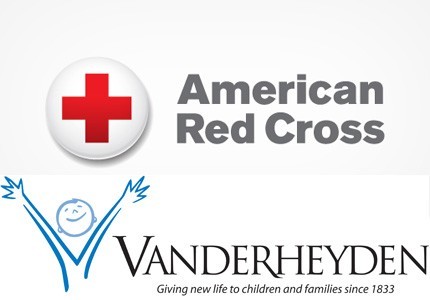 For immediate release:
February 3, 2017

Contact:
Cathy Yudzevich
cyudzevich@vanderheyden.org
(518) 874-4901

GIVE THE GIFT OF LIFE AT VANDERHEYDEN'S 4th ANNUAL BLOOD DRIVE
Wynantskill, NY — The American Red Cross has issued a severe winter blood shortage alert. The organization is calling for donors across the country to help in this emergency, after receiving 37,000 fewer donations in November and December. More than 90 blood drives were cancelled in December alone, due to snowstorms and severe weather.

You can help!

Our 4th Annual Blood Drive will be held on Tuesday, February 7th from 2pm to 6pm in the Cafeteria of the Richard A. Desrochers Educational Center at Vanderheyden's main campus at 614 Cooper Hill Road, Wynantskill, New York, 12198.

All donors with a valid email address will receive a $5 Amazon.com gift card claim code.

If we reach 100% of our goal, everyone is entered into a drawing to win a $100 Visa Gift Card!

Vanderheyden's President and CEO Karen Carpenter Palumbo says "we are happy to support this effort as part of Vanderheyden's give back to the community from our Team Members and Individuals. We are thrilled once again to be able to donate the gift of life to save lives."

To schedule an appointment please call (518) 874-4920 or simply download the American Red Cross Blood Donor App, visit redcrossblood.org, or call 1-800-RED CROSS.. Walk ins are welcome!

All blood types are needed to ensure a reliable supply. For donor eligibility requirements, go to: http://www.redcrossblood.org/donating-blood/eligibility-requirements

The American Red Cross shelters, feeds and provides emotional support to victims of disasters; supplies about 40 percent of the nation's blood; teaches skills that save lives; provides international humanitarian aid; and supports military members and their families. The Red Cross is a not-for-profit organization that depends on volunteers and the generosity of the American public to perform its mission. For more information, please visit www.redcross.org.

Vanderheyden began as the Troy Orphan Asylum in 1833. Today, our facilities provide a safe haven for youth, adults and families who have experienced family disruption, trauma, abuse, emotional difficulty, developmental disability and learning problems. The Richard A. Desrochers Educational Center at Vanderheyden is a Regents accredited 7-12 grade program that provides education to individuals who are at risk of not succeeding at school and those in need of a special education. Vanderheyden is committed to a family focused, trauma informed, and community based system of care. For more information visit www.vanderheyden.org and follow us on Facebook, Twitter, and Instagram.