Programs and Services
Community Services
Community Services
COMMUNITY SERVICES
Programs in the community offer an array of services to children, youth, adults and families throughout the Capital Region, those whose lives have been impacted by developmental disability, family disruption, abuse and/or neglect.
Housing for Adults Living with Developmental Disabilities
Adults live in either group homes or in apartments, depending on the level of their need for support. Group homes in Troy, Glens Falls, Averill Park, Schodack, Rensselaer and East Greenbush provide 24/7 support care and supervision. Individuals who are able to live more independently are supported at the level needed in apartments in Troy, East Greenbush and Albany.

Housing in the Community for Youth To Age 21

The following three programs all receive referrals and funding through the Office of Children and Family Services.

• The Supervised Independent Living Program (SILP) provides youth 16 to 21 with 24/7 staff support so they can live in apartments.

• Bessey is a specialized co-ed group home in the community for youth to age 12-21 who are living with both a developmental disability and a mental health diagnoses

• Rubin is a group home in the community for males age 12-21.

In-Home Services for Children with Mental Health Issues
Families with a child that has mental health issues receive intensive supports to help the child thrive. This service is provided through home and community based services.
Community Integration for Youth and Adults with Developmental Disabilities
Two different programs facilities activities and participation in the community. Participants are encouraged and supported in their efforts to volunteer, have a job, and/or connect with others as they enjoy events in the community.
Foster Care Support
The needs of children in foster care for skill building, employment help and job shadowing are provided through The Bridges to Health Program.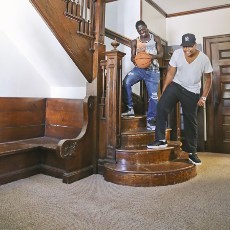 Successes
For 22-year old Jermaine, there is no looking back on what brought him to Vanderheyden, only high hopes as he moves towards his future. He credits the Vanderheyden staff with "helping him become a man and realizing that he had the potential to have a good life." With the help of Vanderheyden support staff, Jermaine acquired the skills necessary to live on his own and support himself.

For information on Vanderheyden's Community Services Provider Program
Mary Beth Carman, LCSW
Vice President of Operations
Office: (518) 874-4900
Fax: (518) 283-7165