Programs and Services
Education
Education
Richard A. Desrochers Educational Center is a Regents accredited 7 -12 grade program by the New York State Department of Education offering all required classes for students to graduate with a Regents Diploma, a Career Development and Occupational Studies (CDOS) credential or a Skills Achievement and Commencement Credential.
The program provides appropriate teaching for special education students as well as those who are at risk of not succeeding at school. The teaching addresses the individual needs of each student. A variety of assessments are administered to ensure the students are being provided the best delivery of instruction for their particular learning styles. All students have the opportunity to earn a NYS Regents diploma and a Career Development and Occupational Studies Credential.
A varied intensity of classroom settings is available to meet the many needs of all students that attend. Vocational and job coach trainings are offered to enhance the growth and potential for students once they leave the program.

View our Intake Packet »

View our Code of Conduct Packet »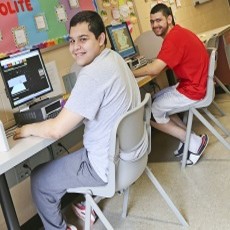 Successes
"Vanderheyden plays a vital role in New York's effort to ensure all children have access to quality education. Vanderheyden demonstrates that it is possible to change lives one student at a time."
-Richard C. Iannuzzi, president of New York State United Teachers www.nysut.org

For information on Vanderheyden's Education Program
Mary Beth Carman, LCSW
Vice President of Operations
Office: (518) 874-4900
Fax: (518) 283-7156