2017 CDPHP Workforce Team Challenge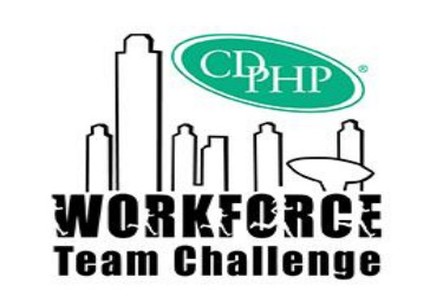 FOR IMMEDIATE RELEASE

Contact: Deanna Amore
(518) 641-5126 (o) or (518) 698-2934 (c)

2017 Race Registration is Now Open
Boys & Girls Clubs of Albany, Vanderheyden to benefit

ALBANY, N.Y. – Feb. 17, 2017 – The race is on! Now is the time to sign up for the 2017 CDPHP® Workforce Team Challenge.

Registration is open for the annual 3.5-mile road race, which takes place at 6:25 p.m. Thursday, May 18 at the Empire State Plaza in Albany. Participants are encouraged to sign up early, as the race will be limited to 10,000 registrants.

The event is much more than a race. It brings together people of all fitness levels from Capital Region businesses and organizations for an evening of entertainment, camaraderie, and healthy fun.
Most importantly, the CDPHP Workforce Team Challenge serves as a fundraiser, not only for the Hudson-Mohawk Road Runners Club (HMRRC), which organizes the race, but for local nonprofits chosen by the club. This year, the Boys & Girls Clubs of Albany and Vanderheyden will receive funding support.

Participants are invited to donate to the charities of choice when they register. With an anticipated sold-out race, organizers point out that even a small gesture can make a big impact. For example, if each registrant donates $2 to the charities, it could potentially raise $20,000!

Donations for the Boys & Girls Clubs of Albany will benefit the organization's Healthy Habits and Positive Sprouts program, which teaches club members healthy eating habits as youth grow their own produce and use it to prepare healthy snacks and well-balanced meals. The program is aimed at reducing childhood obesity and offers lifelong lessons that youth will share with family and friends.

Vanderheyden will use the donations to create Sanctuary Trails, a natural retreat nestled among the 80 wooded acres of the organization's Wynantskill property. The trails will provide a quiet place for users to take a meditative walk and enjoy numerous fitness activities, such as hiking, biking, snowshoeing, and more. It will be available for public use.

The race also helps underwrite many of HMRRC's activities and offerings, including college scholarships, grants, free races for members, and the Just Run® Program, which encourages grade school children to run for exercise and fun.

Participants are encouraged to share their experiences – pre-race, day of, and post-race – on the CDPHP Facebook Event page and on Twitter and Instagram using #WorkforceChallenge.

About CDPHP®

Established in 1984, CDPHP is a physician-founded, member-focused and community-based not-for-profit health plan that offers high-quality affordable health insurance plans to members in 24 counties throughout New York. CDPHP is also on Facebook, Twitter, LinkedIn, Pinterest, and Instagram.

About the Hudson-Mohawk Road Runners Club (HMRRC)

The Hudson-Mohawk Road Runners Club is the Albany area's largest running organization. The club was formed in 1971 and today has more than 2,500 members who come in all shapes and sizes and from all walks of life, as well as different running styles and speeds. Members are united in their love of running and desire to promote and participate in quality races and running-related activities. The club organizes more than 30 running events a year at many different locations throughout the Capital District. These events offer something for everyone, novice and veteran alike.